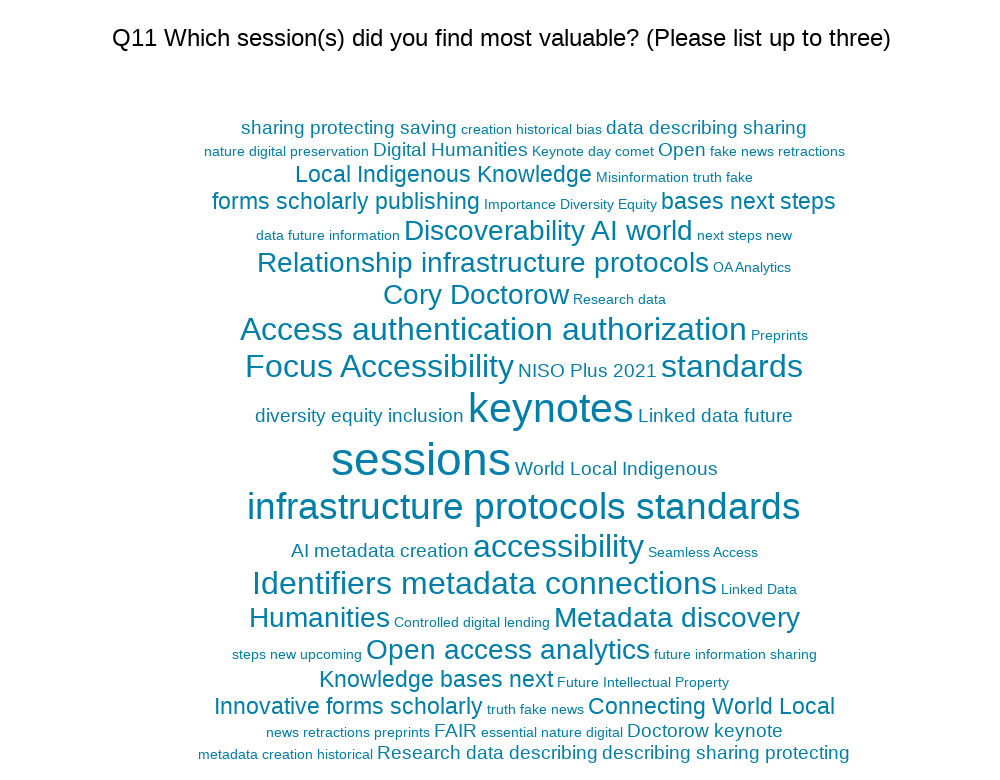 Although it's just two years old, the NISO Plus conference is already a highlight of our year, so we're delighted that many of our colleagues and friends in the information community, who attended, seem to feel the same way! We'll be sharing their formal feedback in a few weeks, when we publish the results of the post-conference survey but, in the meantime, here's a sneak preview of some of the things they told us they liked best.
Speakers and content. A whopping 98% of respondents found the overall quality of speakers and content either valuable or extremely valuable — a real tribute to our Planning Committee's help identifying the right topics and speakers. And, of course, also a tribute to the speakers themselves, so we're especially pleased that 97% of them say they were satisfied (7%) or extremely satisfied (90%) with their experience
The keynote speakers. Almost everyone who has responded to the survey so far attended at least one keynote, rated as valuable or extremely valuable by 90% of those attendees. We're happy to say that recordings of four of the five keynotes are now publicly available — Cory Doctorow, Dr. Margaret Sraku-Lartey, Heather Joseph (Miles Conrad Lecture), and Dr. Norihiro Hagita — so please feel free to share them with your colleagues and wider community
The presentation plus conversation format. We were determined to try and replicate the spirit of last year's in-person NISO Plus conference virtually, so we are delighted that 91% of respondents found our chosen format — viewings of recorded presentations followed by live discussions on zoom — valuable or extremely valuable. They also rated us 4/5 when asked how successful we were at facilitating conversations among attendees about important topics for the information community
One of our mottos for NISO Plus is that the real work happens after the conference so, true to our word, we've spent much of the past couple of weeks getting ready to make a start on some concrete next steps. A key first step is to pull together ideas for follow-up workshops — identifying some of the most popular topics and ideas as the basis for a series of virtual workshops, to be held the next few months. These will help us determine what specific actions are needed, including drafting work item proposals for potential new NISO standards.
We'll be sharing more information about the survey results, workshops, and other next steps shortly!